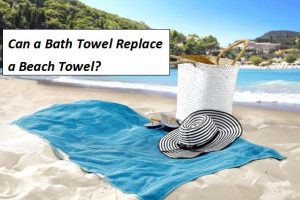 Generally speaking, each object has its own value and meaning. The beach towel has become an essential daily travel items, it can not be replaced by regular towel.
Why? And what are the differences? It must have its own irreplaceable unique advantages. Beach towel and bath towel differ mainly in dimension, thickness and appearance. Now let me introduce the details of differences between them.
Dimensions of beach towel and bath towel
The first difference is that they have different sizes.
A beach towel is around 70 inches, which is much longer and wider than normal towels. Beach towels are usually large enough for people to lay on without getting sand on their head and legs.
However, a bath towel is usually between 52 to 58 inches, not to mention those small towels for other uses.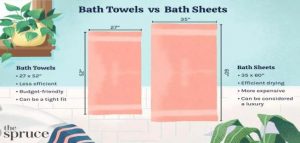 Thickness 
A beach towel is usually thinner and lighter than a bath towel, and its main function is to create a barrier between you and the sand, preventing it from sticking to your body.
Of course, beach towels are also used to dry your body, they can wrap you up and suck the moisture out of your body after swimming in the pool or surfing at the beach.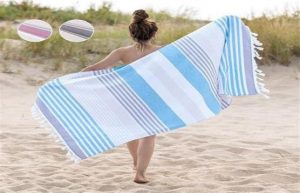 Appearance 
Beach towels are often more colorful and eye-catching than the towels we use at home. The more colorful the color, the more in line with the summer beach sunshine and dynamic atmosphere.
Everyone wants to have their own personalized beach towel with their own name or brand, or their designs. Imagine that pulling out your custom beach towel and being greeted with admiring glances around, you will enjoy a good time all day. As for the bath towels, they have pure color, and its design is usually used to cooperate the adornment of the bathroom and house. Simple pure color can make people relaxed and feel the comfortable of life.
And if you want to see more photos of beach towels and bath towels, you can click the Instagram.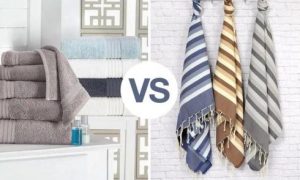 So "Can I use a bath towel as a beach towel?" Yes, you can. Just ignore the weird looks at you and do whatever you want. But be aware of the limitations. Bath towels are much shorter than beach towels. Part of your body might end up on the sand. Also, it won't be easy to pack a bath towel in your bag because of its volume.
And be aware that their fabric might attract the sand. Make sure you shake it very well before taking it back with you, or your room or bath will be a mess. For the same reason, it will be much harder to wash it afterwards compared to a beach towel, whose fabric repeals sand.
So after reading this passage about the differences between them, you may want to know how to find a best quality beach towel. Then you can read the following passage: