At first, before purchasing towels when going to the beaches, many people may be in atrouble that how to choose the suitable beach towel with high quality. Now I'd like to talk about the question through this passage.
Choose the best material for your beach towels
The common fabric we often use at the market are Waffle Sand Free Beach towel fabric、Quick Dry Beach Towel  fabric、50% Polyester and 50% Cotton、100% cotton Towel、100% Microfiber Beach Towel. They are made of different raw materials and have different features when in use.
Waffle Sand free Beach Towel fabric
The most common being Waffle fabric, which has a clearly visible texture and can be customized to print patterns. The material of Waffle fabric is 80% Polyester and 20% Polyamide.
The advantage of Waffle fabric is that the material is thick and has a good effect of heat preservation and wind resistance.
Especially in the evening, when you are playing or chatting in the cool breeze of the sea, the waffle beach towel draped or wrapped on the body can play an effective role in keeping out the cold.
Waffle fabric beach towel is really an essential travel supplies for children and women.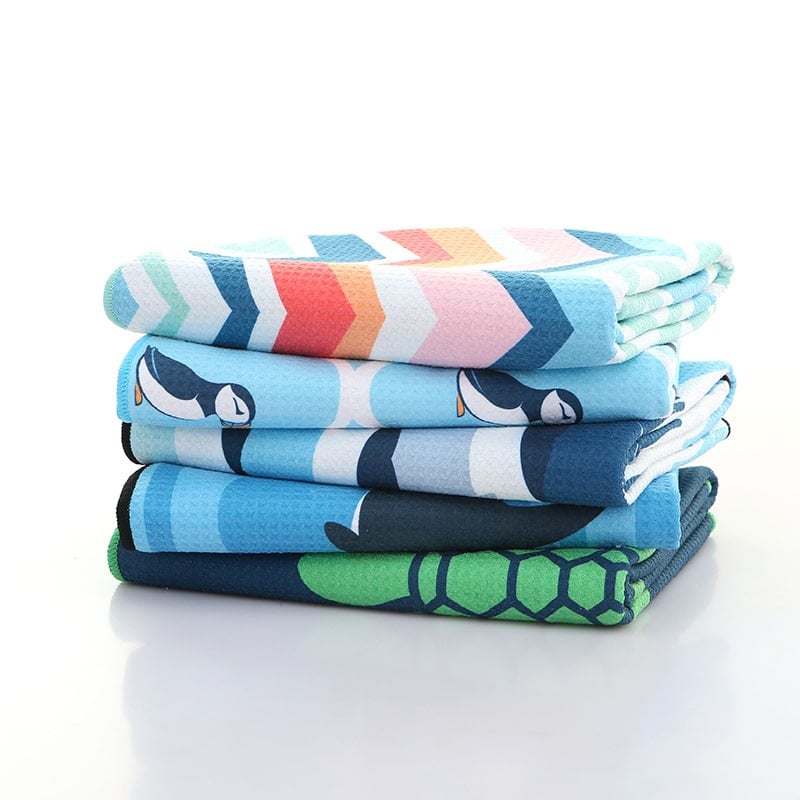 Quick Dry Beach Towel fabric
The second more common beach towel fabric is Suede fabric, which has no obvious texture but is also used for personalized beach blanket, you can print and customized your own unique beach blanket.
80% Polyester and 20% Polyamide.
Absorbent & quick drying
Lightweight ,Weight: 200 gsm
Very Soft
Easy to fold ,Convenient to carry out.
Sand Free
Personalized with pattern ,logo and diverse design .

50% Polyester and 50% Cotton
Of course, in addition to the usual Waffle and Suede fabrics, beach towels also come in poly-cotton. The material of polyester-cotton fabric is 50% Polyester and 50% Cotton.With polyester on one side for printing various patterns and cotton on the other side for wearing next to the skin, because cotton is skin-friendly and soft.
The most typical poly- cotton items are baby ponchos and kid ponchos, their skin is much more delicate than adults, cotton fabric can give them better care.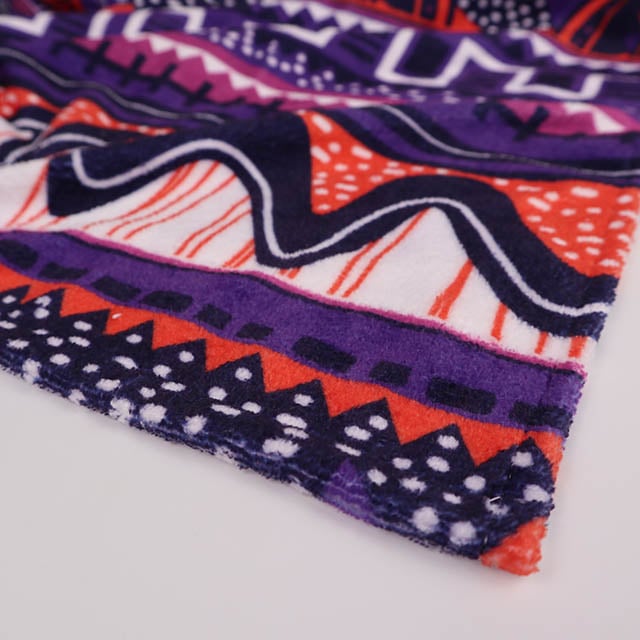 100% Microfiber Beach Towel Fabric
The last fabric I want to mention about is complete polyester fabrics, which can cooperate circular modelling, with the adornment that one circle adds tassel again around.
The material of pure polyester fabric is 100% Polyester, and it is the most cost-effective fabric because its price is the cheapest.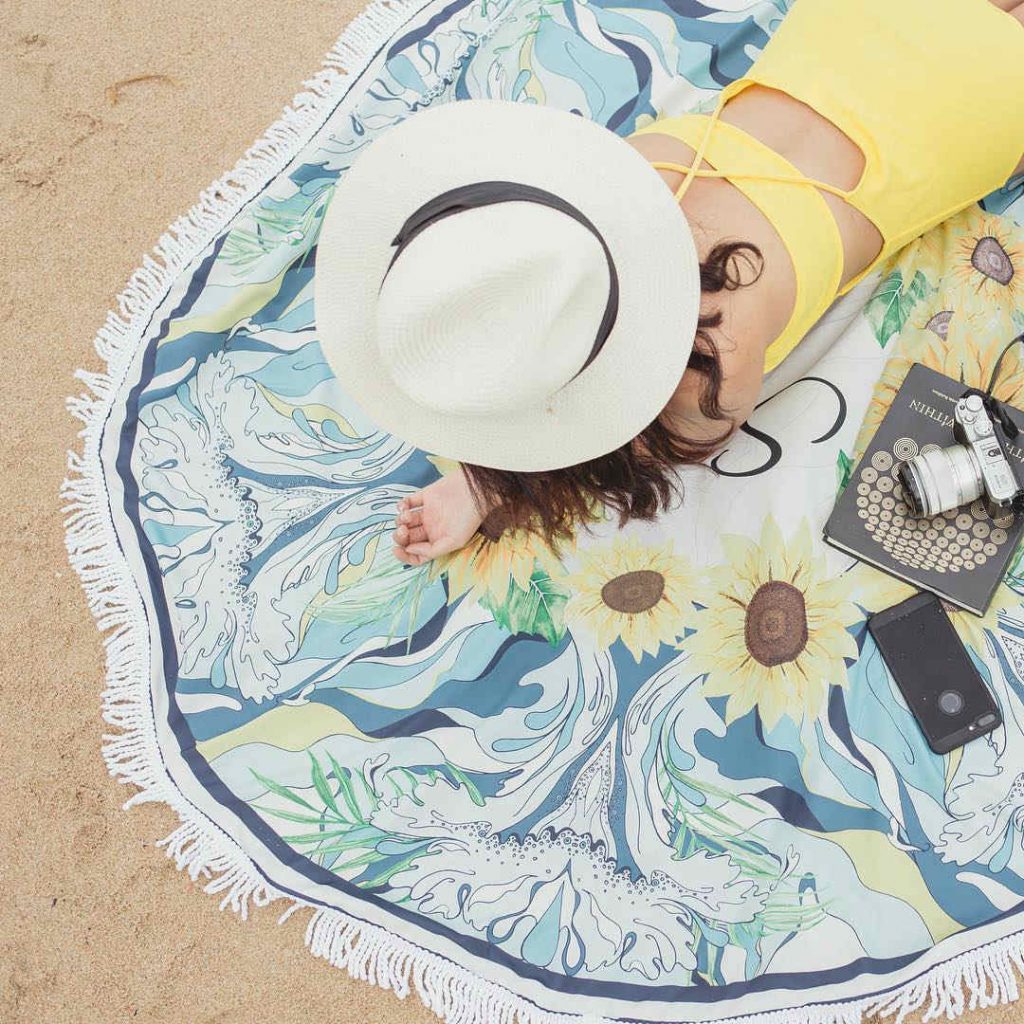 Since you have known so many konwledge about fabric of beach towels, maybe you will have a question that can I start beach towel business? If you nod your head, you can read the passage about
How To Start A Custom Beach Towels Business?
Check the weight
The weight of the beach towel is measured in gm per sqm or (gasm). Always keep in mind that the higher the towel weight is, the denser it is going to be and as a result, the plusher and more absorbent it will be.
Generally, the ones coming within 350~500gasm are considered to be the heaviest, while the ones within 250~350gasm are taken to be of medium weight.
If you are a business owner reading this blog and wondering where to get hold of attractive beach towel wholesale then make sure to reach out to a distinguished Beach towels manufacturing unit today!
Do some visual checking
Thoroughly check the towels. See whether the towel edges are securely stitched, ensure that their edges are neatly and nicely folded.
If you are able to put ticks on these, then that shows signs of quality craftsmanship.
In addition, this will help to extend the towel's life, preventing fraying.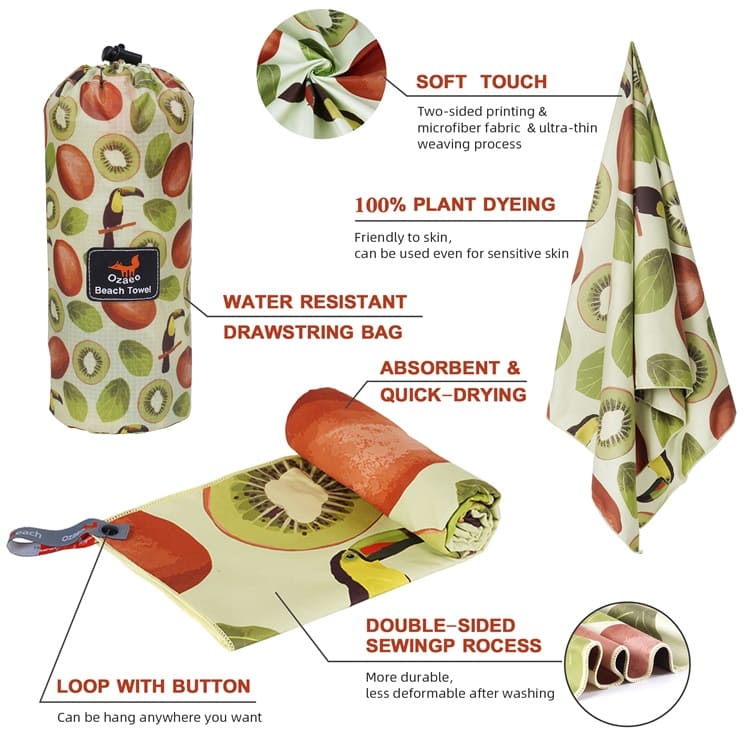 The Various Designs of Beach Towel
There exists many kinds of beach towel in our market, however, not all the beach towels are of high quality. We, usually, regard the best quality beach towels with bright printing color and custom designs.
As for the design of beach towels, many people prefer to customized towels because custom beach towels are a creative and unique way to show something your own.
But others may feel confused about why should I choose custom beach towel, you can read this passage to answer this question:
Why You Should Custom Beach Towel?
Super Absorbent, Fast Dry and Compact
– It is not the same as cotton,but it's smoother,thinner and stronger than cotton or terry cloth quality. Fast Quick drying – 3 times faster than cotton. The towels can absorb up to 7 times its weight.That's why it works perfectly as beach & travel towel and why it dries off so fast.
Sand Free and Stylish
Sand won't stick, leaving more sand at the beach for castles.Each beach blanket is printed double side with stylish design,you are absolutely unique on the beach. Easily stand out from the crowd. It's truly an exceptional beach and travel towel and perfect gift idea for your friends,lover and family.
Faced with so many stylish beach towels and so many brands of beach towels at the market, if  you are the seller, supposed that how can you do to make your brand be popular among people and make it stand out, if you don' t konw, this passage is a great guide for you:
How To Build A Beach Towel Brand People Love?